Paintings and sculpture inspired by nature.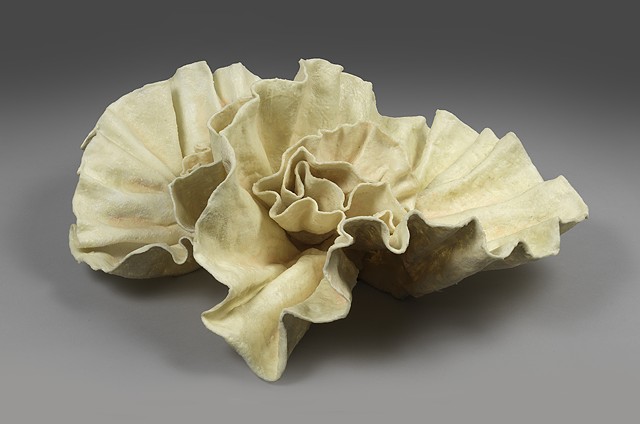 Artist Statement:
I am interested in metamorphosis as a natural phenomenon as well as an interpersonal phenomenon.
My work is inspired by the natural world: plant and sea life. My realistic paintings attempt to capture the effects of light. And my abstract paintings resemble water, shadows, and leafy branches. My sculpture is nature-referential rather than replication; the pieces resemble objects in nature, but they are unique abstractions.
I have created mixed-media coral sculptures for "The Coral Project", a two person exhibition with Sandi Miot highlighting the effect of climate change on coral reefs.
"The Coral Project" was written up in the Chicago Tribune: https://www.chicagotribune.com/suburbs/daily-southtown/news/ct-sta-ent-impact-st-0201-story.html
ABOUT THE ARTIST
Helen Dannelly studied painting at San Francisco State University and sculpture at the University of Minnesota. She has worked in encaustic (beeswax with resin) which she enjoys because of its versatility as it can be used in sculpture, painting and can mimic some printmaking techniques. An award-winning artist, Dannelly's work has been shown at Slate Contemporary in Oakland, California, Addington Gallery in Chicago, Illinois, Kolman Pryor Gallery in Minneapolis, Minnosota, Adam Peck Gallery in Provincetown, MA, and many other venues throughout the US. She is the co-founder of Catalyst Art Lab, an artists' membership community and online art school offering courses in painting, printmaking, sculpture, digital imagery, and social media marketing for artists. Classes are open to the public and members receive priority registration as well as course discounts. Learn more at www.CatalystArtLab.com
Dannelly teaches and works out of her studio at the Bridgeport Art Center in Chicago. Contact: Info@helendannelly.com