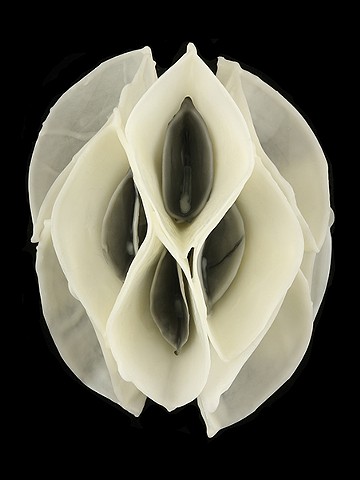 Artist Statement:
I am interested in metamorphosis as a natural phenomenon as well as an interpersonal phenomenon. In my sculptural work, I have addressed the spectrum of vulnerability: from complete defensiveness, self-protection and closure to openness and exposure. Many of the bronze pieces I create have sharp, armor-like exteriors which are cracked open, barely revealing soft vulnerable interiors. The Cluster series, made of paper, beeswax and resin, are open and exposed, fluid in form, and often reveal colorful interiors.
My sculpture is inspired by the natural world: plant and sea life, especially pods, cocoons, sea anemones as well as cellular structure. It is nature-referential rather than replication; the pieces resemble objects in nature, but they are unique abstractions.
A photorealistic painter by training, my two dimensional work is primarily abstract. Working with layers of translucent color and imagery, my goal is to achieve fluidity and depth. I've recently been exploring painting with alcohol inks on synthetic watercolor paper as well as on encaustic.
ABOUT THE ARTIST
Helen Dannelly studied painting at San Francisco State University in the early nineties with Bay Area Photorealists Robert Bechtle and Richard McLean, as well as with Cherie Raciti and Teresa Stanley. She studied sculpture, including metal arts and bronze casting at the University of Minnesota, and at Diablo Valley College in the San Francisco Bay Area. In 2009, she began working in encaustic which she enjoys because of its versatility. An award-winning sculptor, Dannelly's work has been in juried exhibitions both locally and nationally and is in private and public collections throughout the country.